Welcome to UNCG
Experience UNCG
About Greensboro
UNCG at a glance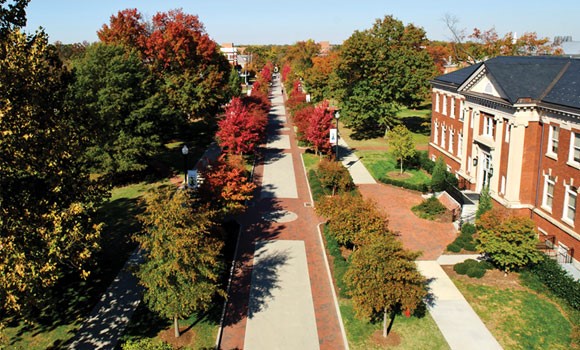 UNCG Today
With over 19,000 students and over 3,000 employees, UNCG is the largest state university in the Piedmont Triad and has an annual economic impact of more than $1 billion. The campus has grown to include 30 residence halls and 27 academic buildings on 250-plus acres.
UNCG takes pride in being a learner-centered public research university with eight colleges and schools.
Enrollment
In Fall 2021, UNCG enrolled 19,038 students, including 15,178 undergraduates and 3,860 graduate students. Sixty-seven percent of students are female. Twenty-eight percent of students are Black, and over 12 percent are Latino.
Classes & Faculty
UNCG has more than 175 areas of undergraduate study and 250 areas of graduate study. Student/faculty ratio is approximately 16:1. Forty-four percent of full-time faculty are tenured, and 83 percent hold a doctorate or other terminal degrees in their fields.
Academic Calendar
Two semesters, August to May, and two summer sessions.
Campus Life
UNCG's picturesque campus includes more than 27 academic buildings and 30 residence buildings on 250-plus acres. Opportunities for students include more than 300 student organizations, 17 Division I athletic teams, intramurals, club sports, wellness center, campus golf course, student newspaper, student literary magazine, student radio station, music and choral groups, drama and dance performance groups, concert and lecture series, film series, internships, Outdoor Adventures program, fraternities and sororities, and community service.
Costs
For full-time students living on campus, 2021-22 basic costs (including tuition, fees and room and board) totaled approximately $17,154 for in-state students and $32,314 for out-of-state students.
Housing
UNCG Housing and Residence Life offers an array of on-campus living options for students, including:
Three residential colleges for students who want to live and enroll in courses with their learning community peers while developing close, meaningful relationships with faculty;
Seven living-learning communities for students who want to live and enroll in courses with their learning community peers while participating in related co-curricular programs; and
An honors college residence hall.